Portrait - Tiyéda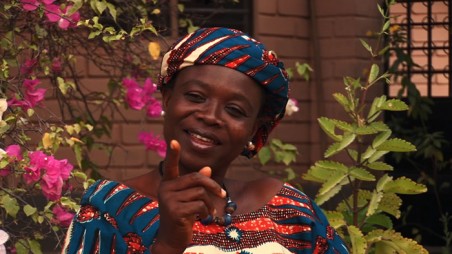 Born in Ténéga (a few kilometers away from Baga in the North of Togo) in June 1957 in a polygamous family of 9 children, Tiyéda Bawiena moves to Accra in neighboring independent Ghana with her parents who, like many Nawda, leave Togo which was still colonized. While her parents were originally farmers they were forced to learn new crafts to make ends meet in Ghana; her father became a butcher and her mother got into palm oil production. Tiyéda met Séda in Togo. While their relationship grew stronger, Tiyéda headed back to Togo after finishing her A-Levels at the end of high school in Ghana and enrols in an introductory French course at the Sokodé Technical Institute. There she studied secretarial work for a year before earning her bachelor's degree at university and heading to Tours in France with Séda and their firstborn to pursue her masters.
After earning her graduate degree and spending 3 years in France, she and Séda moved back to Togo in July 1983 out of love for their rural lifestyle and determined to carry out their dream of improving the living conditions in their native village. Yet in order to ensure the family's financial survival, Tiyéda took up a teaching position at the Lomé University while Séda was laying the foundation for the CIDAP despite the challenges and lack of financing.  "Séda went back to the village to start the idea we had come up with together. We wanted to go back and live in our environment and live like our people have always lived, while showing to the other farmers that it is possible to live off the land in a dignified manner". After a year, she re-united with Séda in Baga.
Tiyéda has been the general coordinator at the CIDAP for the past 20 years.
Lyrical, beautifully photographed film

- Vancouver Film Festival reviews