Portrait - Jeanne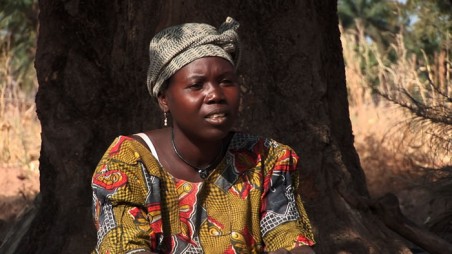 Born in 1975 in Niamtougou (near Baga) in a polygamous family, with 6 siblings, Jeanne Milodigaena grew up in the region as her father taught primary school in neighbouring villages. In school until fifth grade, she drops out aged 17 to get married and moved to Baga two years later.
Trying to support their 5 children, Jeanne and her husband struggle to make ends meet until Jeanne joins the Bakoté movement at the CIDAP. There she learns new agricultural techniques that she teaches her husband and that allow them to increase their yield. Thanks to the Bakoté's techniques, she and her husband are able to properly feed their family, stock up on food crops and sell their surplus at the local market for some extra income.
What's more is that her relationship with her husband morphed into a partnership between equals: he heeds her advice empowering her in society, whereas other women in the village remained submissive and dependent upon their husbands for all household decisions.
Outstanding (…) visually stunning

- Becky Hawketts, Cambridge Film Festival Daily