Portrait - Tida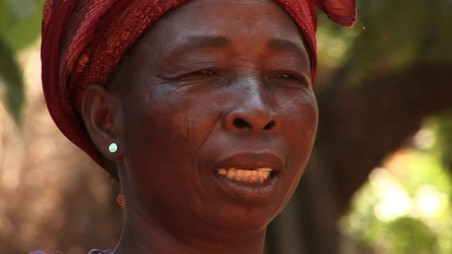 An only child who never attended school, Tida Ségu was born in 1950 in Ghana to bureaucrat parents from Koka (a village near Baga). Her parents having passed away when she was 9 years old, she returned to Baga to live with her uncle.
She got married to a polygamous man when she was 20 and had 9 children of which only 4 survived to adulthood. When her husband passed away in 1991 she joined Séda's movement to try and provide for her family. She became one of the founders of the Bakoté women's group: "instead of getting re-married to another man, I got married to the Bakoté movement!"
In addition to acquiring the keys to a new kind of agrarian life and benefiting from the support group that the Bakoté movement grew to be, thanks to the CIDAP Tida Ségu has been able to build her new farm where she currently lives.
17 years after co-founding the movement she has left it, giving in to old age and tiring from the daily commute between Koka and Baga. She has nevertheless continued to work her fields with her 32 year old daughter, which has allowed her not only to continue supporting her now extended family, but also to pass on the Bakoté torch to the next generation.
Stunningly shot and brilliantly directed

- Becky Hawketts, Cambridge Film Festival Daily